Creighton Construction & Development has relocated its headquarters to 2240 W. First St., Suite 101, in Fort Myers.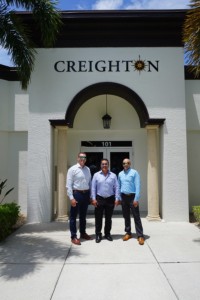 The 5,600-square-foot office will support the continued growth of the company with workspaces for the approximately 30 Southwest Florida-based employees. The new office includes two conference rooms as well as a guest office to accommodate clients and staff. The space, which was renovated to feature a mid-century modern design, offers a central location that allows Creighton Construction & Development to better serve its clients in Southwest Florida as well as those traveling to the region.
"Southwest Florida has been our home since the very beginning, and we want to serve this incredible community, and the people in it, for years to come," said Dan Creighton. "Our new office provides much-needed room for our team to grow, and we are proud to strengthen our roots locally while we continue to expand our services across the country."
Founded by Creighton and co-founder Brent Evans, Creighton Construction & Development provides total real estate solutions for commercial projects nationwide. Employing over 80 team members nationwide, Creighton's services include site selection, entitlement, permitting, construction, construction management, development and political services. The company serves Fortune 500 corporations, national retail tenants and locally owned businesses across the country.
Contact us for more information.